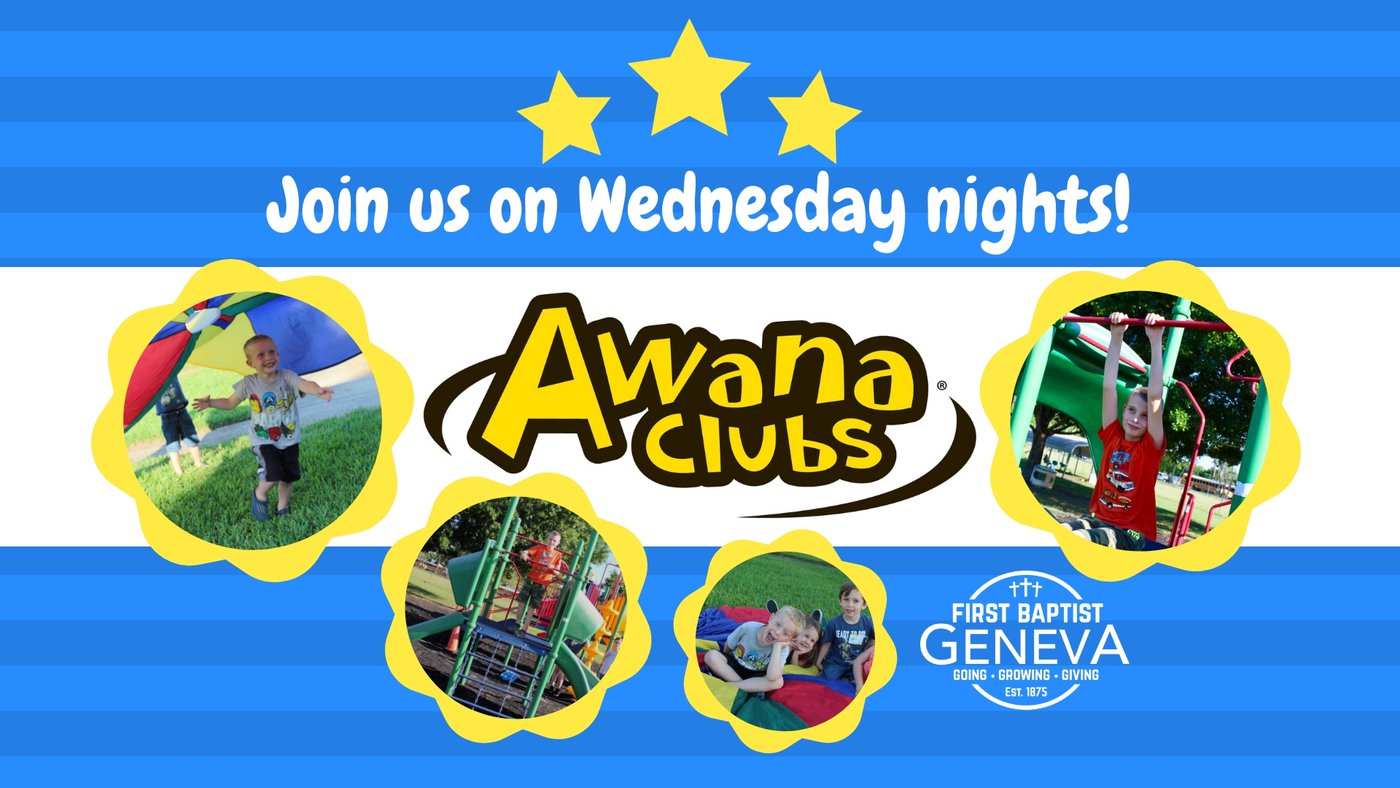 WHEN?
Begins September 4, 2019 | Registration and drop off located in the Fellowship Hall
Wednesdays from 6:30-7:45pm
6-6:30pm: We invite you and your family to join us for a church provided dinner before children are dismissed to their Awana classes
6:30-7:45: Awana Club activities
WHO
VPK through grade 5
Cubbies® celebrates the spiritual potential of preschoolers (3- to 5-year olds) by helping them develop respect for God, His Son and His Word.
Sparks® (K-2nd grade) ignites the curiosity of early elementary-age kids to learn about the people and events of the Bible, building a foundation of wisdom for knowing Christ.
T&T® engages third- through fifth-graders by answering their questions about God and the Bible, guiding them through this pivotal life stage to grow in Christ's grace.
AWANA CLUBS
We know that you're concerned about your child's success in every area of life. You care about shaping values, building character and providing the tools needed for your child to develop a strong moral foundation. That's why we'd like to tell you about Awana Clubs. We want to come alongside you and suport your endeavor.
WHAT DO AWANA CLUBS OFFER YOUR CHILD?
•Biblical teaching
•Basics for a relationship with God
•A foundation for a biblical worldview
•Ultra-fun physical activity and competition
•Bible memorization
•Positive friendships
•Support for parents as they spiritually nurture their children
•In-club adult affirmation and encouragement
•Consistent and positive training on how to thrive in group settings
WE HAVE A 3 PART PROGRAM TO MAXIMIZE YOUR CHILD'S ATTENTION, ENERGY AND TIME:
•Fun and exciting games
•Small group time
•An interactive large group
We want to help your child learn about the Bible and apply biblical truths to their life, but their ultimate spiritual training comes from YOU!
All children will be working through the Awana handbooks together in a group setting. This will ensure your child is gaining a full understanding of the verses they are memorizing each week.
COST
$1.00/per week or $30/year
*It is our desire that no child miss out on Awana because of financial burdens. Please contact Club Commander, Lisa ALbert at (407)461-0800 or send a private message on the form below.
PICK UP
It is very important that you not be late picking up your clubber at the end of the night. Please be at church no later that 8:00pm so that our volunteer leaders can get home to take care of their families.
Please call Lisa at (407)461-0800 if you are going to be delayed in picking up your child from Awana.
REGISTRATION
You may register for Awana by printing a registration form and bringing it with you to the Fellowship Hall on your first visit.
*If you don't have access to a printer, we will have forms available to fill out at the time of drop off in the Fellowship Hall
QUESTIONS? CONTACT US HERE!
BE SURE TO "LIKE" THE FBG AWANA FACEBOOK PAGE FOR UPDATES AND PHOTOS THROUGHOUT THE 2018/2019 AWANA YEAR!