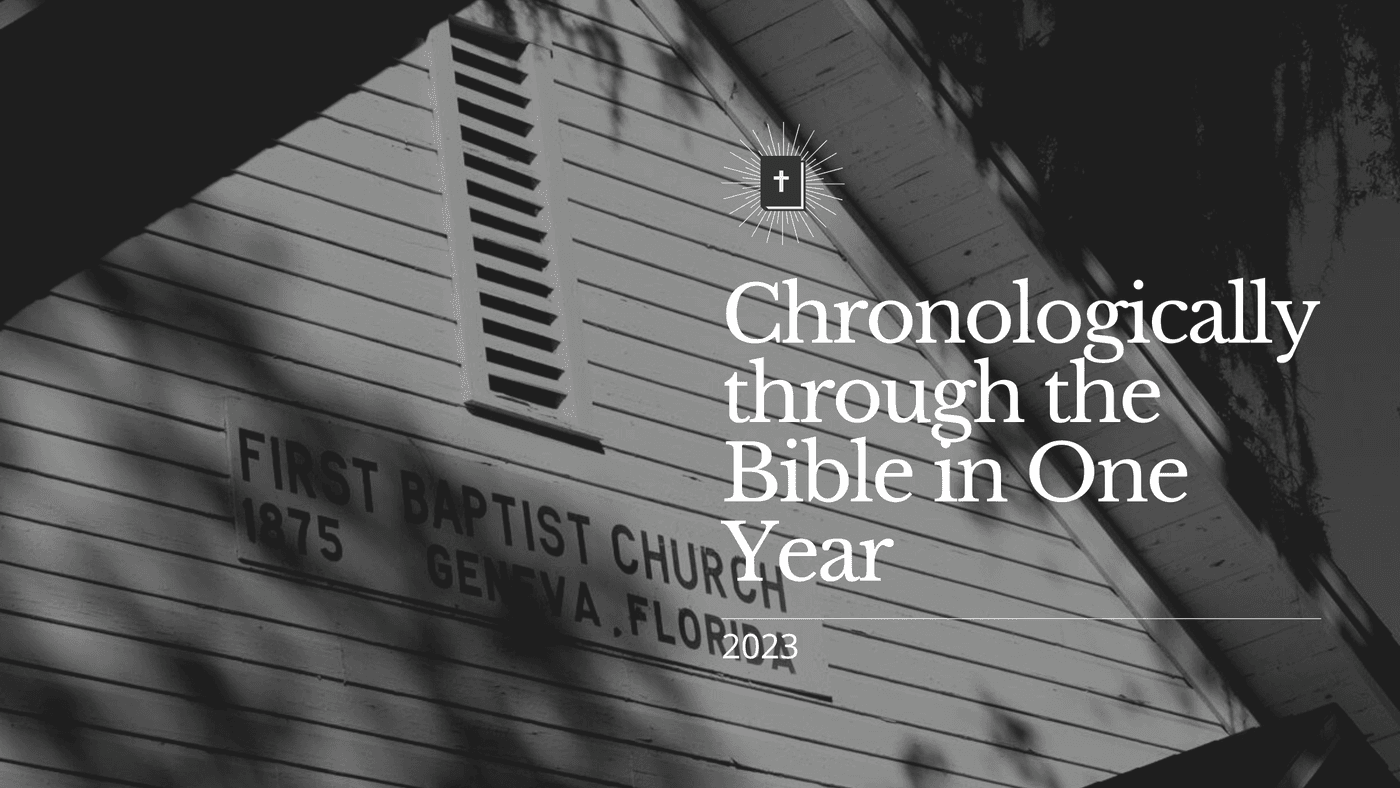 Week #13
As we finish Judges and jump into 1 Samuel this week, we continue to learn about the Judges, and we run into Sampson, a story many of us are familiar with. In 1 Samuel, we meet our final two judges, Eli and Samuel. If you are up to date, you are now more than 25% through the entire Bible. Keep up the great work!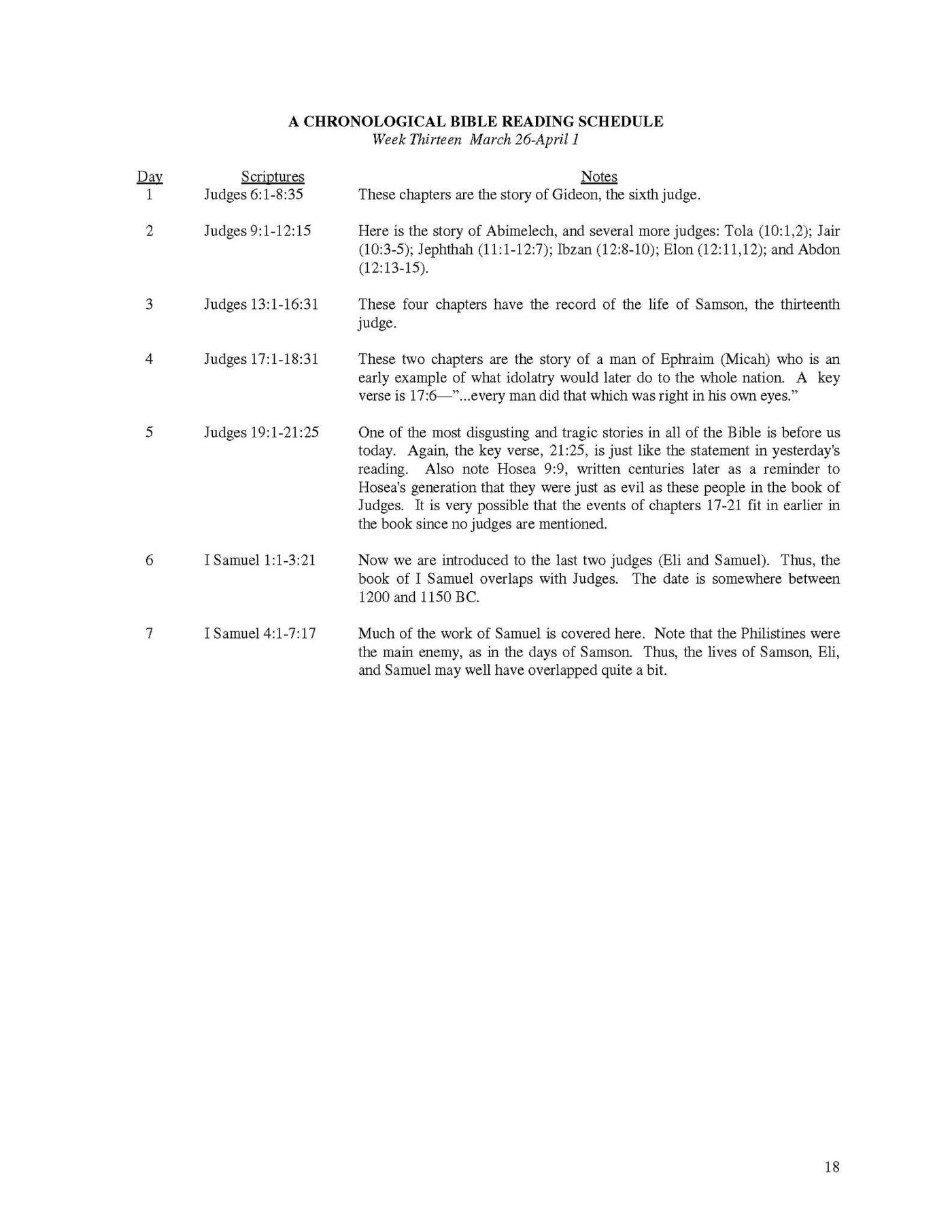 Week #12
I hope your reading is still going well. This week we will finish reading Joshua (including the acknowledgement that the land promise has been fulfilled in Joshua 21:43-45 and the death of Joshua), read through the short book of Ruth, and start Judges - chronicling the people used by God to deliver Israel out of oppression.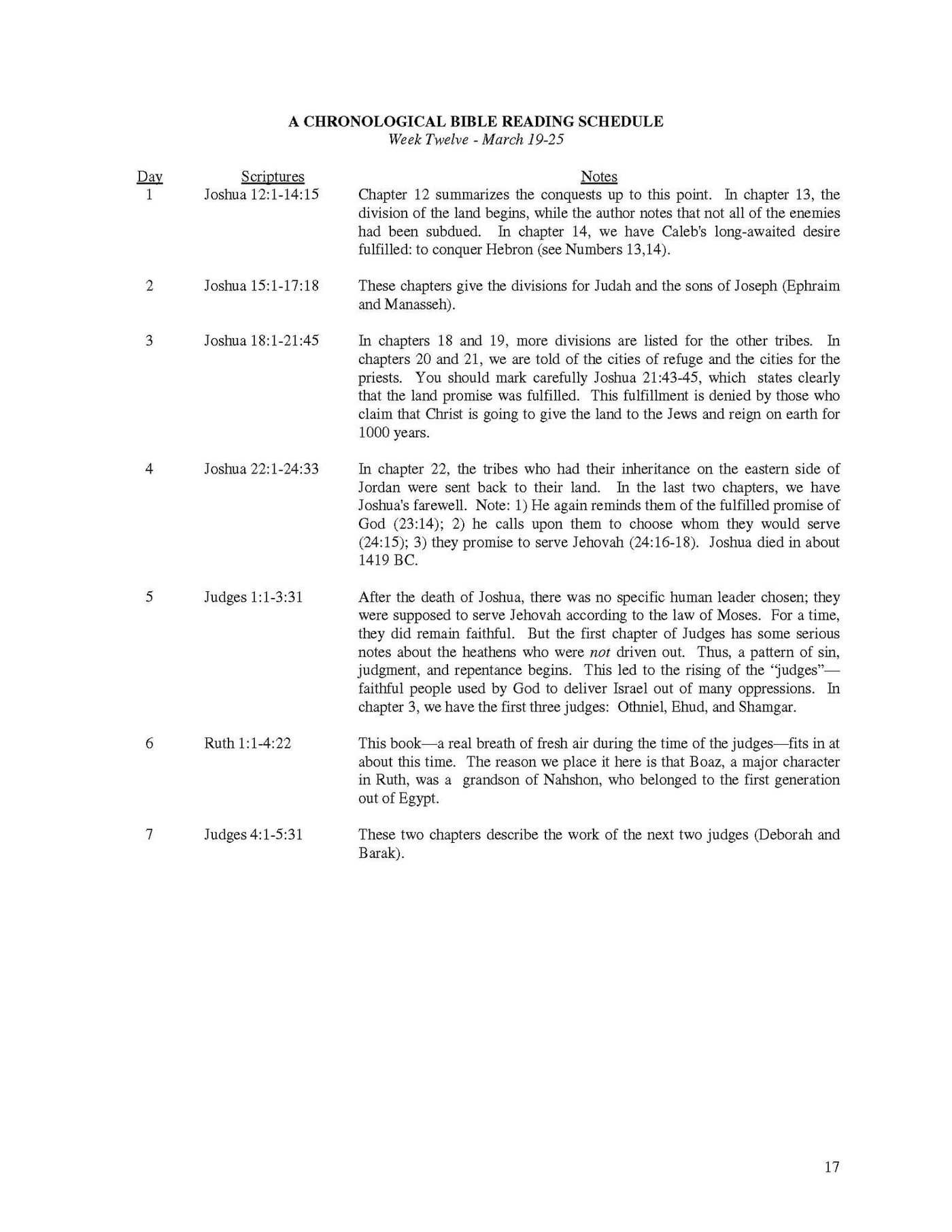 Week #11
Good morning all! OK, it's a big week in our reading. Moses has some final words, then passes and Joshua takes over as the new leader. We read a few Psalms this week, and the Israelites begin to take over the promised land. And in our final day of reading this week, the sun will stand still! That's one busy week.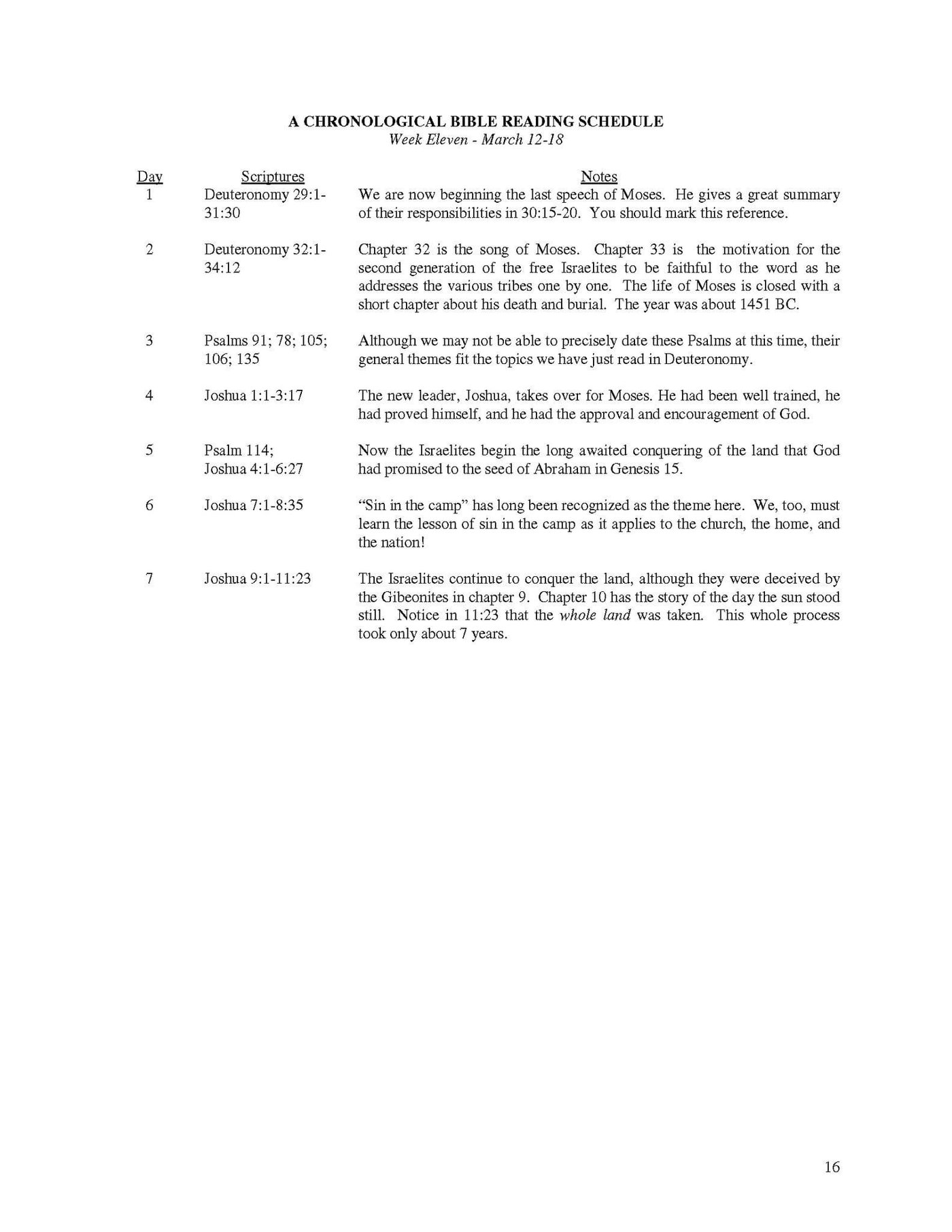 Week #10
Hey everyone. We are entering Week 10. You now find yourself about 25% of the way through the Old Testament, and almost 20% of the way through the entire Bible. We are in the last month of Moses's life. How is it going for you? We would love to hear if you are still reading along with us every week in the comments. Is the story coming to life by reading it like this?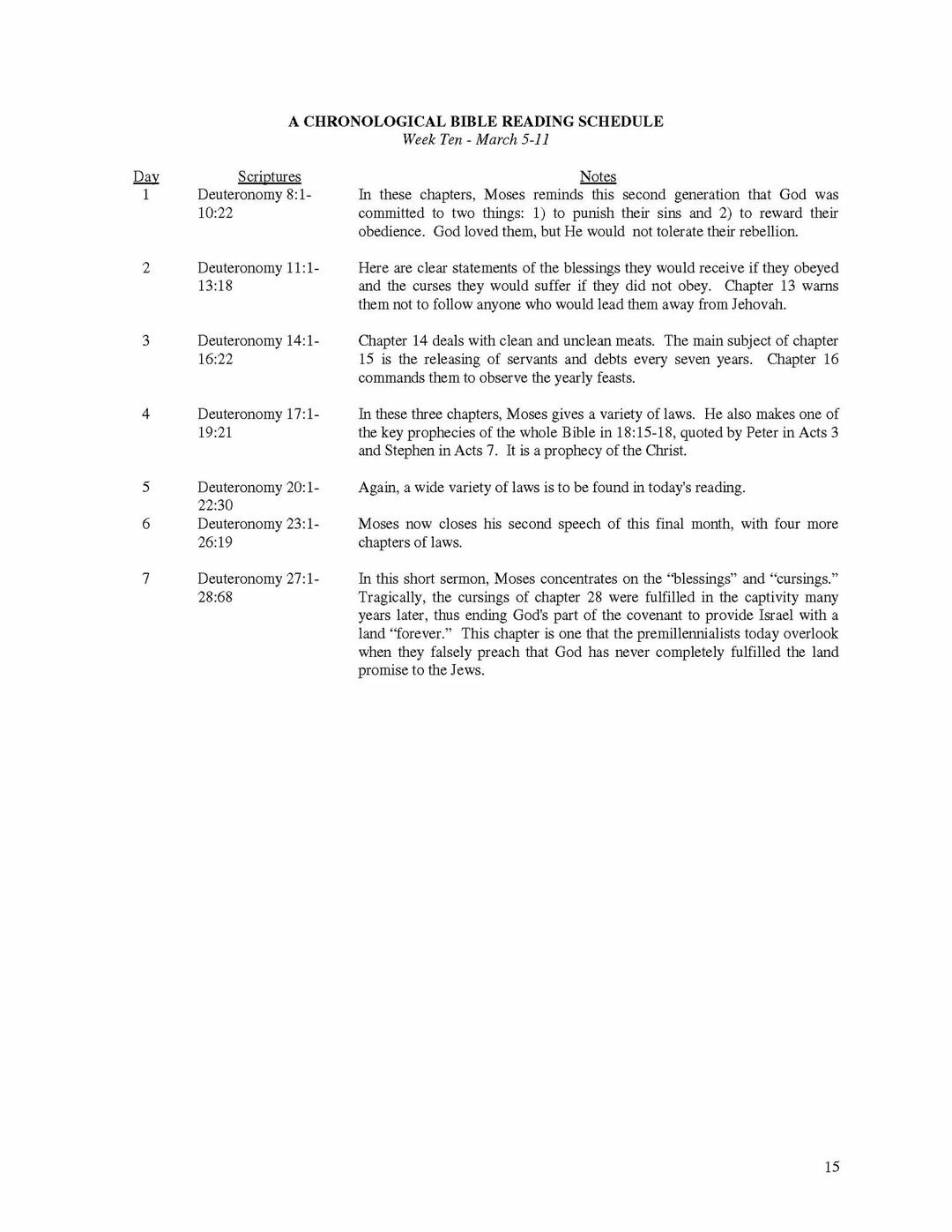 Week #9
It's Week 9, and the Israelites continue to sin, and continue to wander in the desert. Doesn't that sound like us sometimes? As we finish Numbers and enter Deuteronomy, we look at the last month of the life of Moses. If you are still with us after 8 weeks, congrats! If you have fallen behind, use this week to catch back up to us!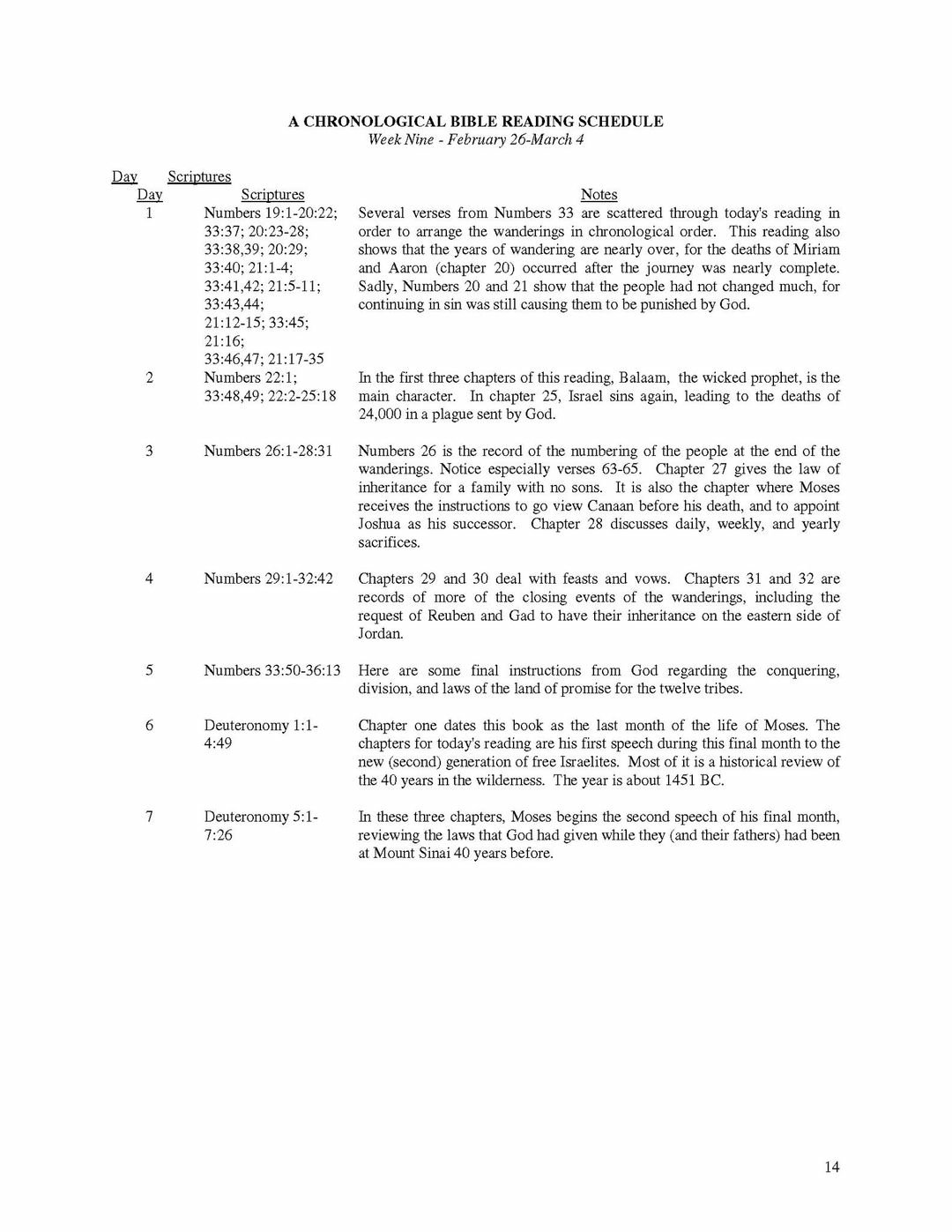 Week #8
Hey there, Week 8 has arrived! Can you believe we have read 4 books completely already this year? Now we get into the 4th book in the OT, Numbers. This week we will start a book that happens over an almost 39 year period. More laws are given, people are counted, the observation of Passover is commanded, spies are sent to Canaan, and we see years of punishment where the "unbelievers" are forced to wander in the wilderness, dying before the reach the promised land.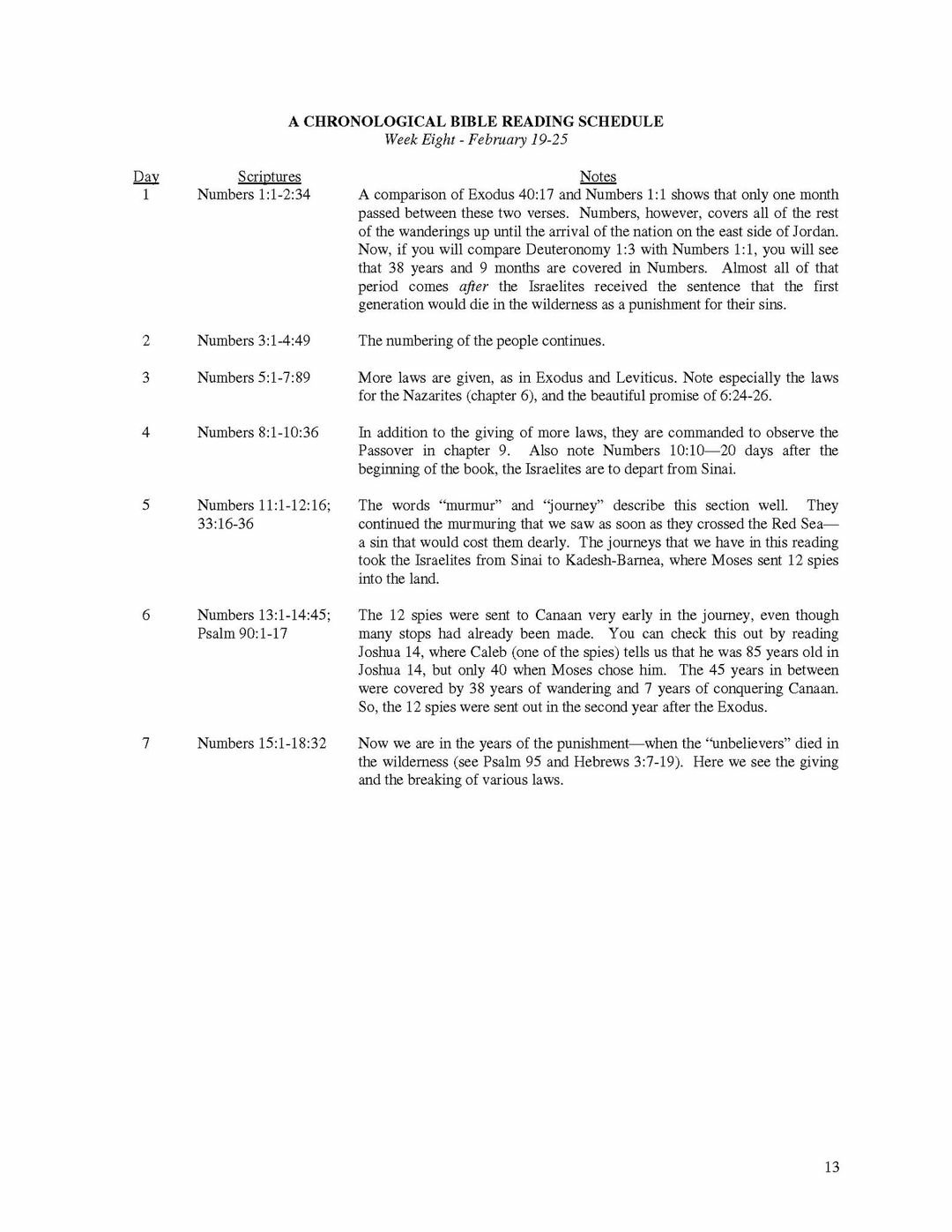 Week #7
OK, it's that time again. Welcome back. I am so glad you are still with us. At this point, it's becoming a habit, right? We begin Week 7 by continuing through the Book of Leviticus. We will be reviewing a LOT of laws this week. Fun fact - Were you aware that the first 5 books of the Bible were written by Moses?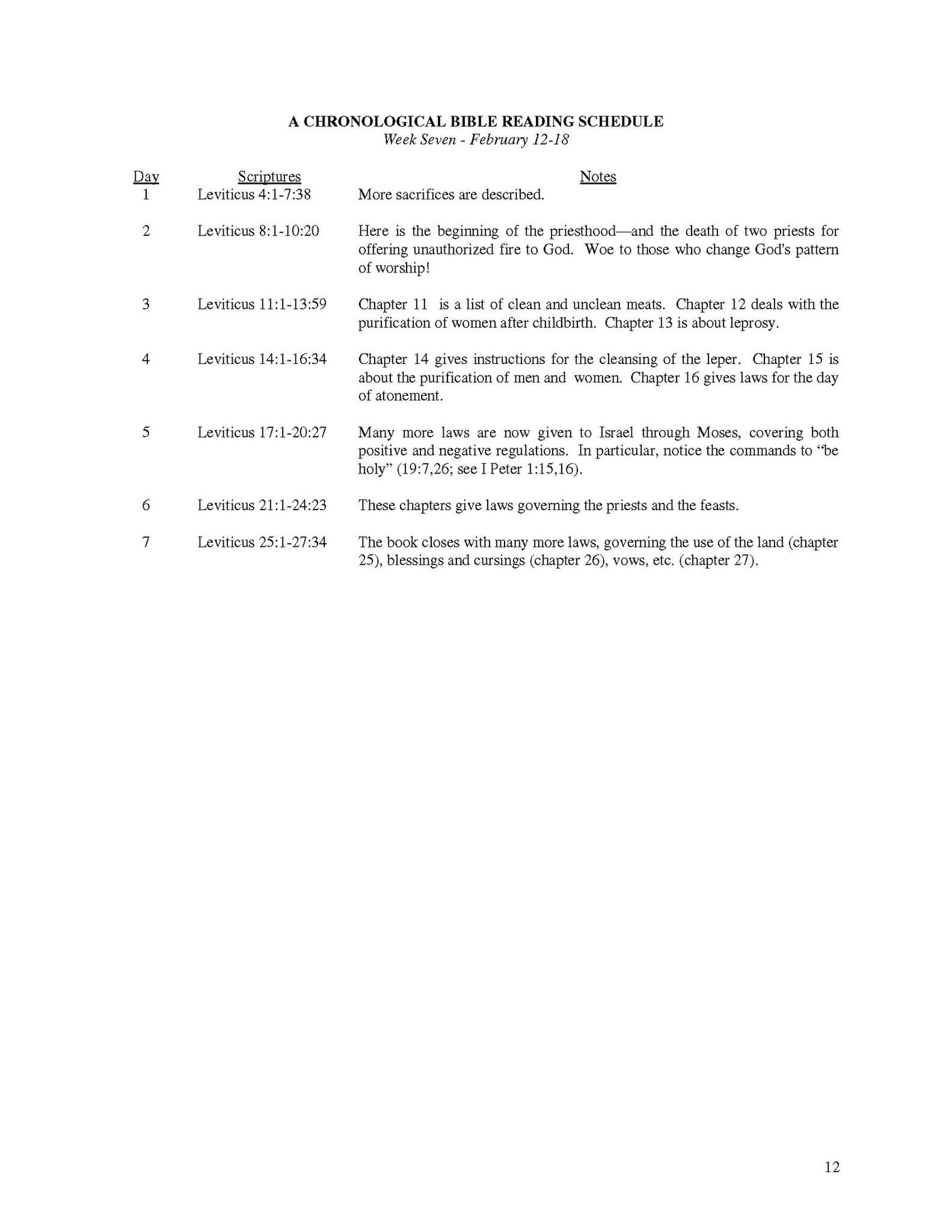 Week #6
OK, everyone. It's Week 6! Time for some rules and instructions (and a tabernacle). Be sure to read the notes too, they are extremely beneficial in understanding what is going on at a high level.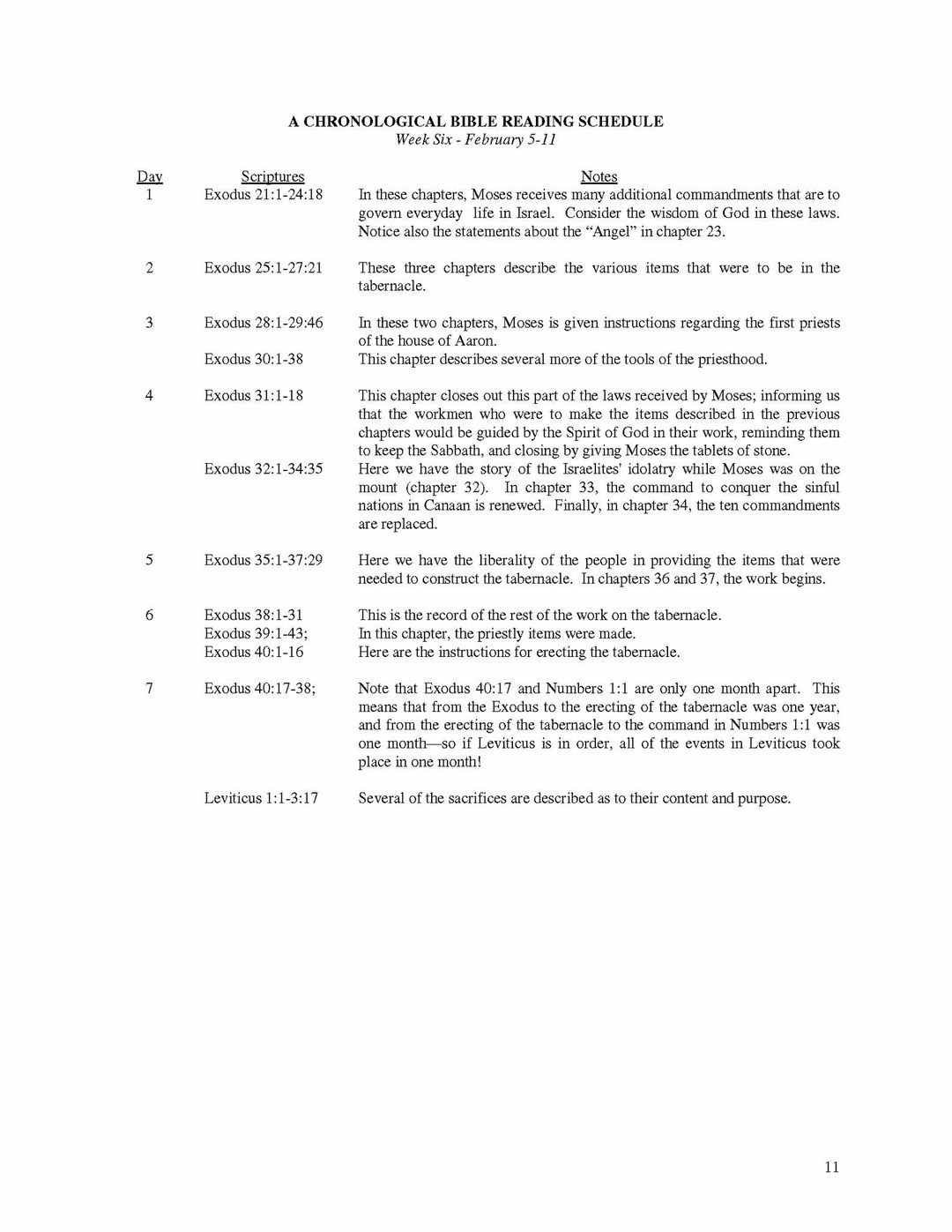 Week #5
Here we are...one month in and we have read all of Genesis and all of Job. For those who may have never read through the bible in a year, you have already read almost 10% of the Old Testament. Now it's time for some more familiar stories - Aaron and Moses, the 10 plagues, the parting of the Red Sea, and the 10 Commandments. Here we go!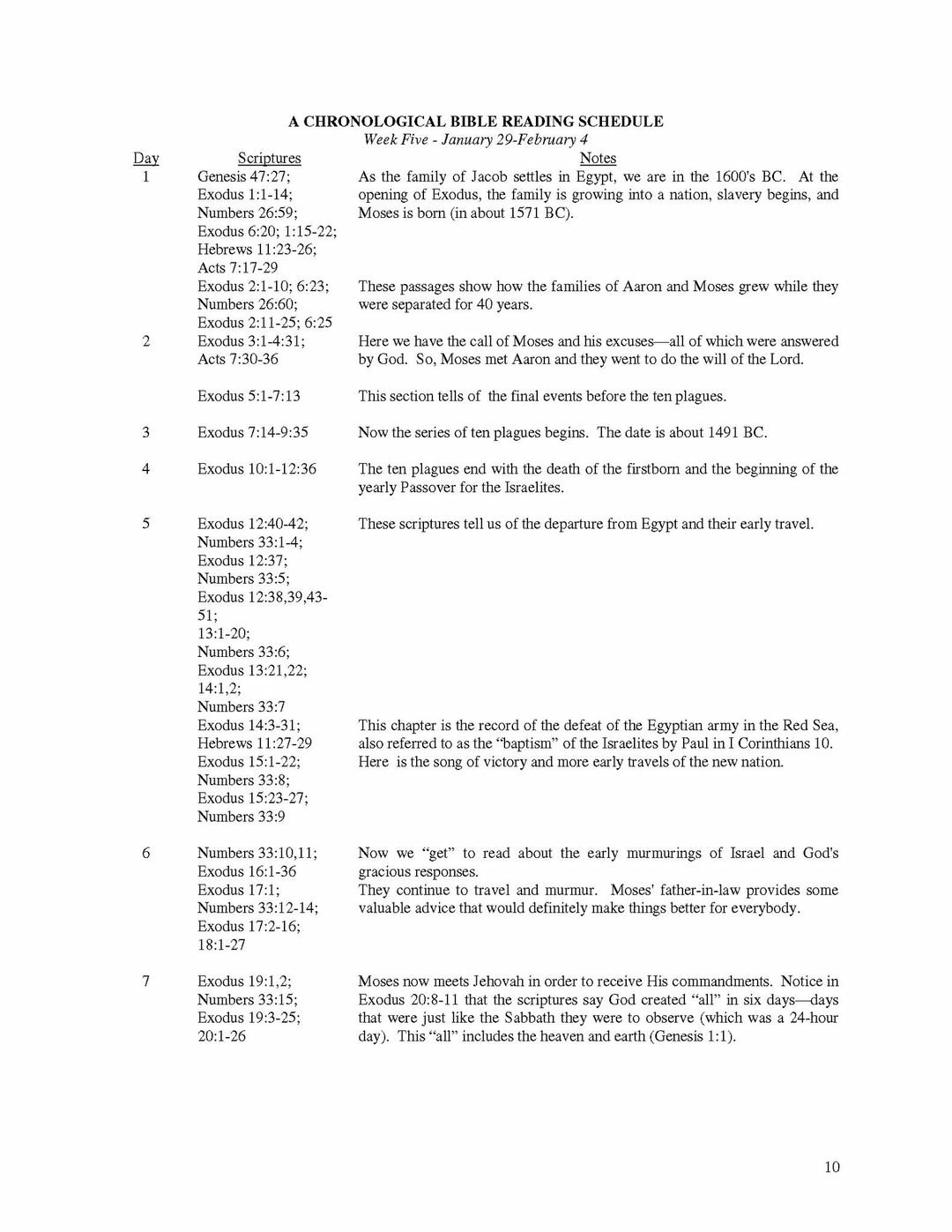 Week #4
Hey, happy to see you again this week. Have you stayed caught up? If so, you just finished reading about Abraham and Isaac. This week we read about Jacob, Esau, and Joseph. Hope you are enjoying your time in the Word. Can you believe you are almost a month into reading the whole Bible? It's true.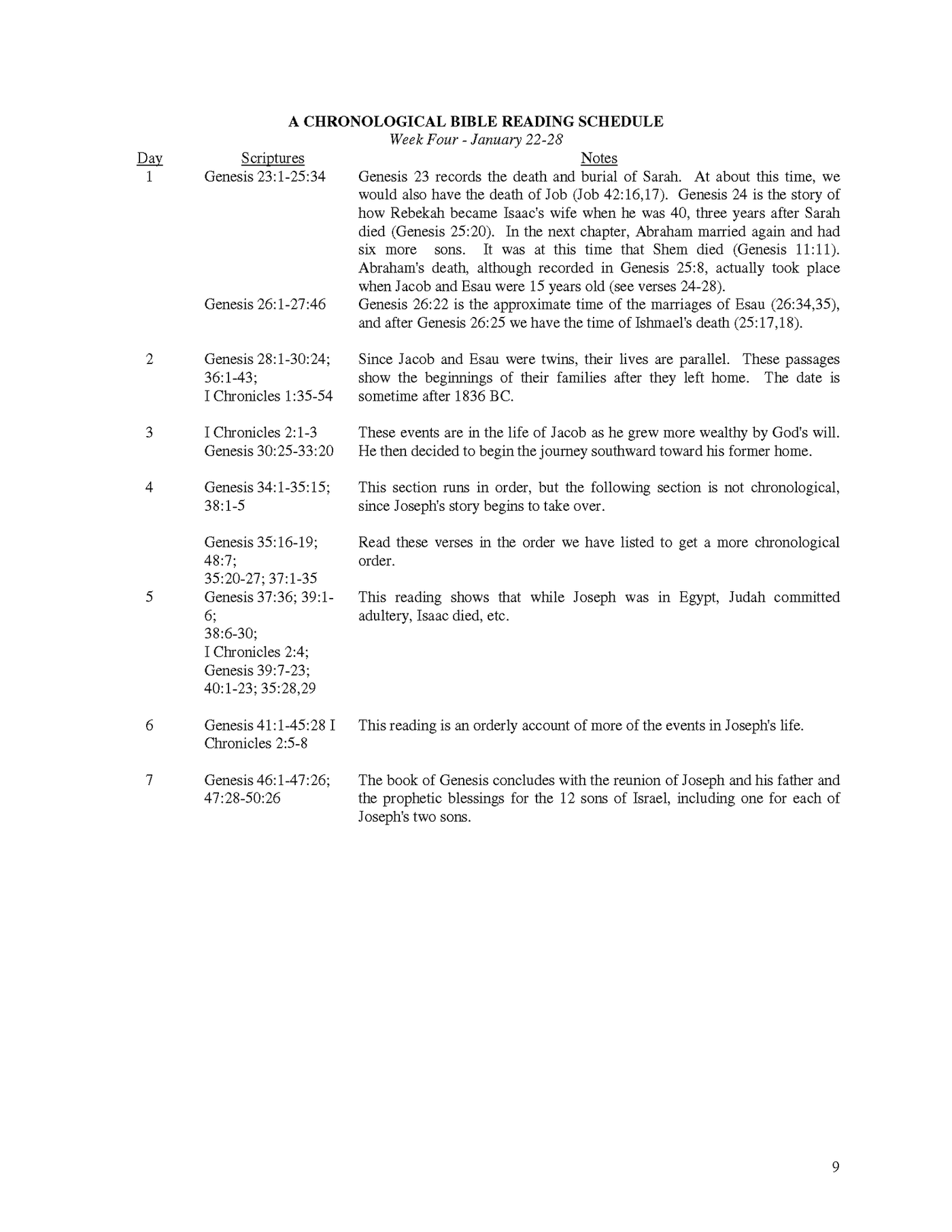 Week #3
It's week 3, are you still with us? This week we will continue reading about Job, and then finish the week reading about Abraham. I hope you are enjoying this and asking questions. I know there have been a couple of good ones posed that I went back and studied the past week. Here's an example. If the snake was Satan in the garden of Eden, when did he fall from Heaven?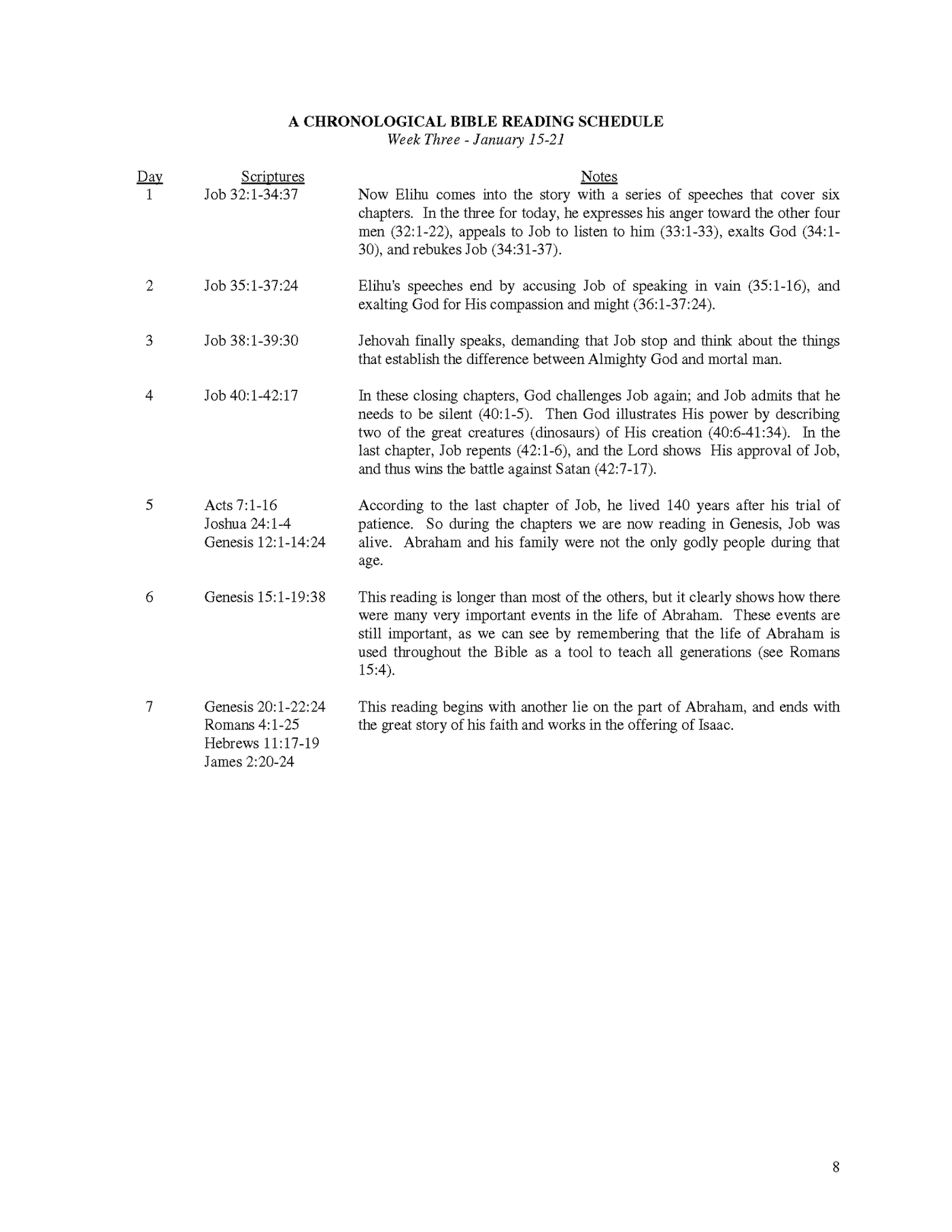 Week #2
Good morning FBG! How was your first week in our goal toward reading the Bible together chronologically this year? I hope you found it easy. We will be completely in the book of Job for Week 2. If you got distracted during Week 1, there is still plenty of time to catch up to us. Let's work to make this daily reading of God's Word a habit.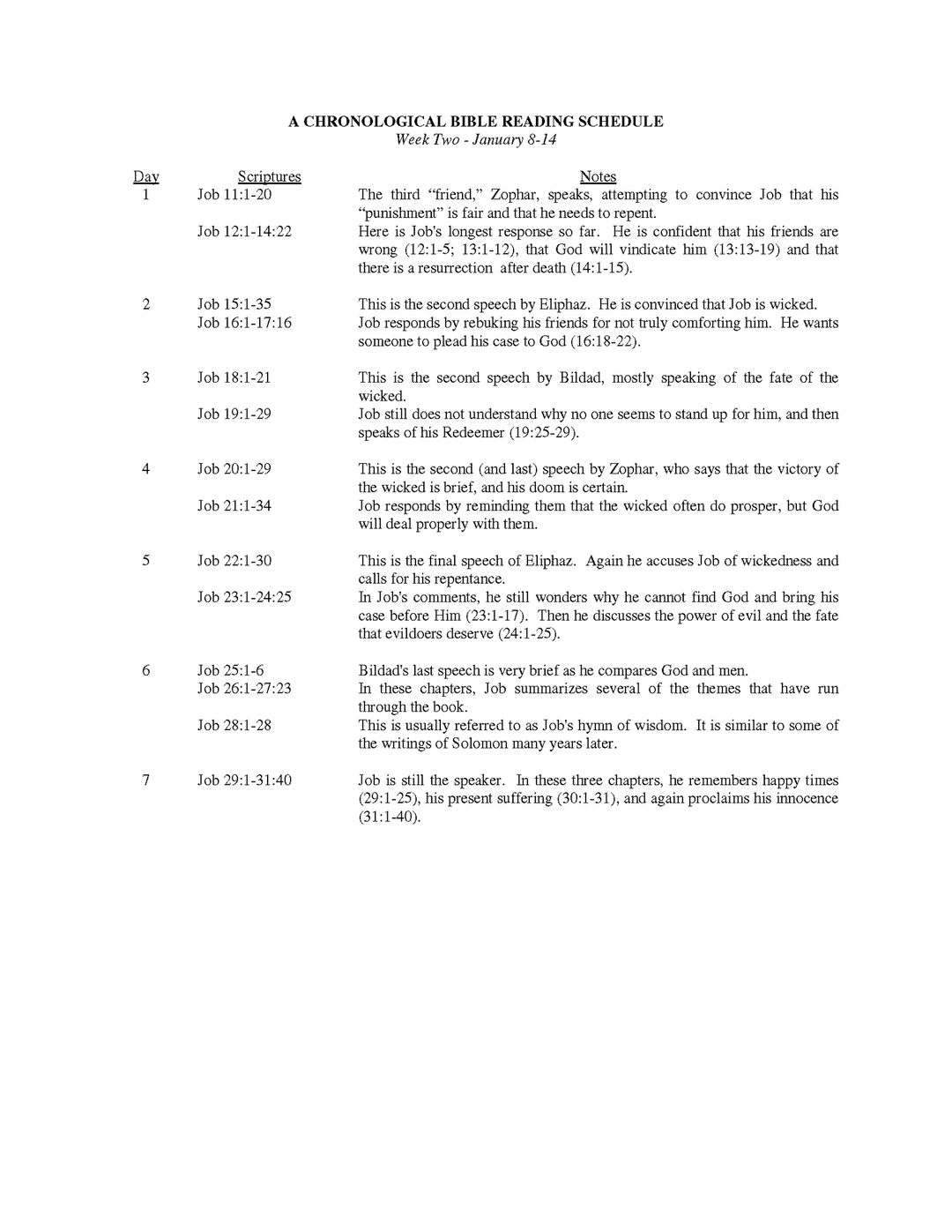 Week #1
Hey, glad to see you decided to join us. Happy New Year! What better way to spend a year than reading through God's Word. The attached image provides this week's readings. We are looking forward to taking this journey with you all. Here we go!