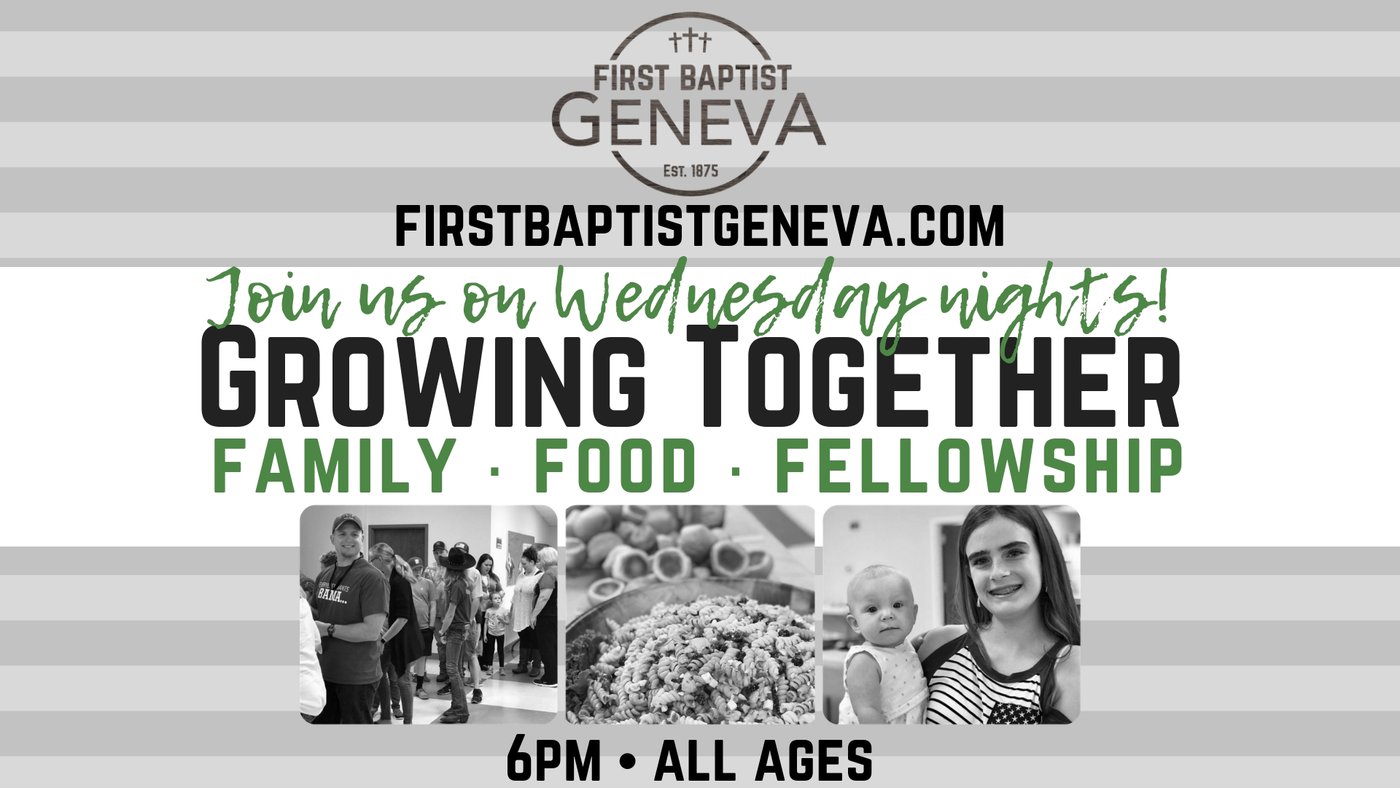 We are Growing Together at FBG
Wednesdays are evenings of fellowship for the whole family. Enjoy a church provided dinner in the Fellowship Hall from 6:00-6:30pm and then children and youth are dismissed to their age appropriate programs as outlined below.
CHILDREN
We invite children VPK through 5th grade to join us for our Awana Clubs program from 6:30-7:45pm
Drop off of children for Wednesday night Awana activities is permitted. You are not required to stay on campus during your childs time at Awana, but we would love for you to join us in the Sanctuary for fellowship and an adult Bible study.
Please check out the Awana link below for all the details on this exciting program!
YOUTH
Youth in grades 6th - 12th are invited to the Youth Hall for a time of fellowship, games and Bible Study after dinner. The Youth at FBG seem to always have a fun outing they are attending or service opportunity they are working on together. Come be a part of this fun and active group!
A typical Wednesday night for our Youth group looks like this:
6:00pm Dinner in the Fellowship Hall with church family and friends
6:25pm Dismissal across the street for Bible Study and fellowship time (we will all walk over to the Youth Hall together)
6:30pm Large and Small Group Bible Study
7:15pm Game and fellowship time
7:45pm End of night clean up and dismissal
ADULTS
After dinner, we invite adults to join us in the Sanctuary for the Growing Together Bible Study with Pastor Conrad from 6:45-7:45pm. Children & Youth will attend their classes during this time.
Childcare for those attending the Adult Bible Study is available in our nursery for newborns through preschool. Children in VPK - 5th Grade are invited to attend our Awana Clubs activities.
Got Questions?
If you have further questions concerning our Growing Together fellowship, simply click the button below and get in touch with us!