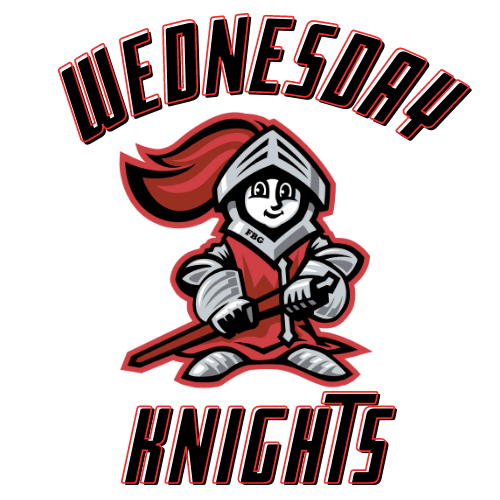 Wednesday Knight's is a program designed to come along side parents to help develop a child's Biblical foundation.
WHAT DOES WEDNESDAY KNIGHTS OFFER YOUR CHILD?
•Biblical teaching
•Basics for a relationship with God
•A foundation for a biblical worldview
•Fun physical activity and competition
•Bible memorization
•Positive friendships
•Support for parents as they spiritually nurture their children
WHEN & WHERE
Begins September 14, 2022 | Wednesday's from 6:30-7:45pm
Registration and drop off located in the Fellowship Hall.
5:45-6:15pm: We invite you and your family to join us for a church provided dinner before children and adult activities begin.
6:30-7:45pm: 'Wednesday Knights' activities starts in the Sanctuary buildling for family integrated Worship time.
ABC
The Answers Bible Curriculum brings the Bible to life and addresses the real-life issues that confront Christians today. Teachers and students alike will get a thorough understanding of the teachings and relevance of Scripture. All ages are equipped to defend their faith, becoming conformed to the image of Christ, as they learn to apply God's Word in their everyday lives.
Key Concepts
The Bible Is Trustworthy
We can trust all of God's Word beginning in Genesis! While showing that Scripture is absolutely true, ABC emphasizes the importance of carefully and accurately interpreting the Bible.
Apologetics
We must be ready to give an answer for what we believe. ABC equips young and old with facts from culture, history, and science to defend the Bible against common skeptical questions.
Chronological/Historical
The Bible presents true history, not made-up "stories." Chronological teaching through the whole Bible gives your students a powerful, worldview-shaping overview of God's Word.
God's Attributes
God's attributes are displayed throughout the Bible! As students discover the character of God, they are encouraged to grow more conformed to the image of Christ.
God's Redemptive Plan (Salvation)
God's plan of redemption is woven throughout Scripture. From Genesis to Revelation, Answers Bible Curriculum traces the "scarlet thread" of the gospel to reveal this unified theme in the Bible.
Life Application
We are to live in light of what the Bible teaches. ABC brings the Bible's teaching to bear on everyday life, impacting all ages with easy, practical applications.
PICK UP
It is important that you not be late picking up your child at the end of the night. Please be in the Fellowship Hall no later that 7:45pm so that our servant leaders can get home to take care of their families.
REGISTRATION
You may register for 'Wednesday Knights' by printing a registration form and bringing it with you to the Fellowship Hall on your first visit.
*If you don't have access to a printer, we will have forms available to fill out at the time of drop off in the Fellowship Hall
QUESTIONS? CONTACT US HERE!
BE SURE TO "LIKE" THE 'FIRST BAPTIST GENEVA - KIDS' FACEBOOK PAGE FOR UPDATES AND PHOTOS THROUGHOUT THE 2022/2023 'KNIGHTS' YEAR!